Concrete Epoxy Floor Paint Factory Flooring
Concrete Epoxy Floor Paint Factory Flooring
HUAREN

China

7 days

20,000MT
Concrete Epoxy Floor Paint Factory Flooring advantage:
That is a two-component solvent-free epoxy floor paint. Nice appearance, dust &corrosion resistant and easy to clean. The flooring system can bond well with the solid base and has good abrasion and wearing resistance. Meanwhile, it has certain toughness, brittle-resistance and can stand a certain weight. The compressive strength and impact resistance ability is also excellent.
Advantages of the epoxy resin concrete floor paint/coating:
1. Beautiful, seamless, dustproof and easy to clean
2.Have good bonding with the solid base, small shrinkage with good abrasion resistance and durability
3. Have good corrosion-resistance to the general chemicals.
4. Nice appearance, rapid construction and economy.
5. Applicable to the moderate load
Requirements for the base:
1. Concrete strength≥C25;
2. Flatness: the maximum altitude difference of 2M running rule<3mm.
3. The moisture content of the base<4%
Operation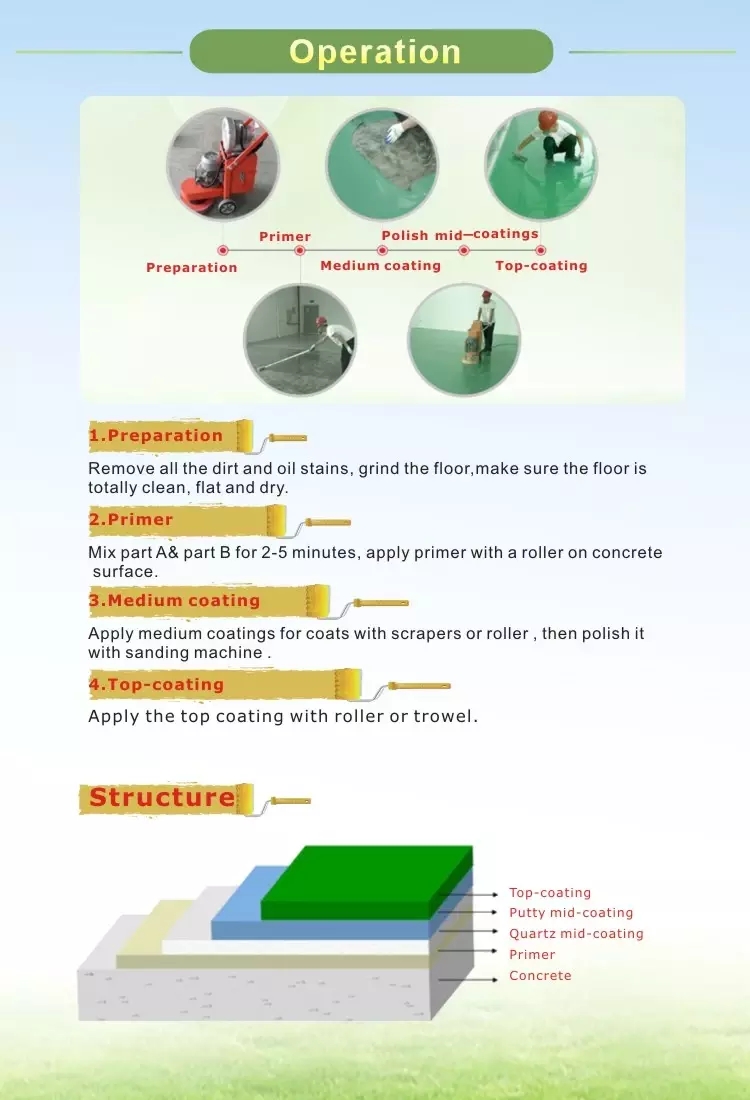 Clean up
Clean tools and equipments first with paper towels, then clean them with solvent before the resin hardens. Health and safety information It contains certain chemicals which can cause skin irritation. Wear gloves, masks while handling the product, washing thoroughly after handling. Should skin contact occur, wash immediately with soap and water. During application and curing in closed rooms, adequate fresh air ventilation must be provided. Keep away from open flames including welding. In case of accidental eye contact, wash with a large quantity of water and immediately seek medical advice. For detailed health, safety, environment recommendations, please consult and follow the instruction on the product material safety data sheet
Why choose us?
1)Technicians can be sent to your site for your coating problems whenever you need.
3)Good quality products at a competitive price.
4)Quick delivery time for new products development.
5)Free samples could be provided.