Eco-friendly Water Based Concrete Floor Paint
Eco-friendly Water Based Concrete Floor Paint
HUAREN

China

7 days

20,000MT
Eco-friendly Water Based Concrete Floor Paint advantage:
High-solid Primer is two-component solvent epoxy resin paint/coating. It has good penetration and sealing power on the porous matrix such as concrete and water whetsone, etc. It can reinforce the substrate strength and provide good adhesion.It is an all-purpose primer for epoxy series paints that can be applied on the surface of concrete, water whetsone, etc. Added into arenaceous quartz or amorphous silica, it can be also used as the undercoat.
Advantages:
1. Nice appearance and dustproof.
2. Strong bonding with the base, low shrinkage, durable and wear-resistant.
3. Corrosion-resistant to the general chemicals.
4. Good anti-slip performance.
5. Bear moderate load.
Technical Data:
| | |
| --- | --- |
| Drying time | |
| Touch dry: | 8-12 hours |
| Hard dry: | 2 days |
| Compressive strength (Mpa): | ≥85 |
| Impact resistance strength (Kg•cm): | 50 |
| Flexural strength (Mpa): | ≥7 |
| Tensile strength (Mpa): | ≥9 |
| Shore hardness: | ≥85 |
| Abrasion resistance(750g/500r, CS-17, g) | ≤0.06 |
| Service life: | 25years |
Where to Use:
It is mainly used for the non-dusty and non-bacteria areas like pharmaceutical factory, hospital, precision machinery, electronic factory, etc.
Application: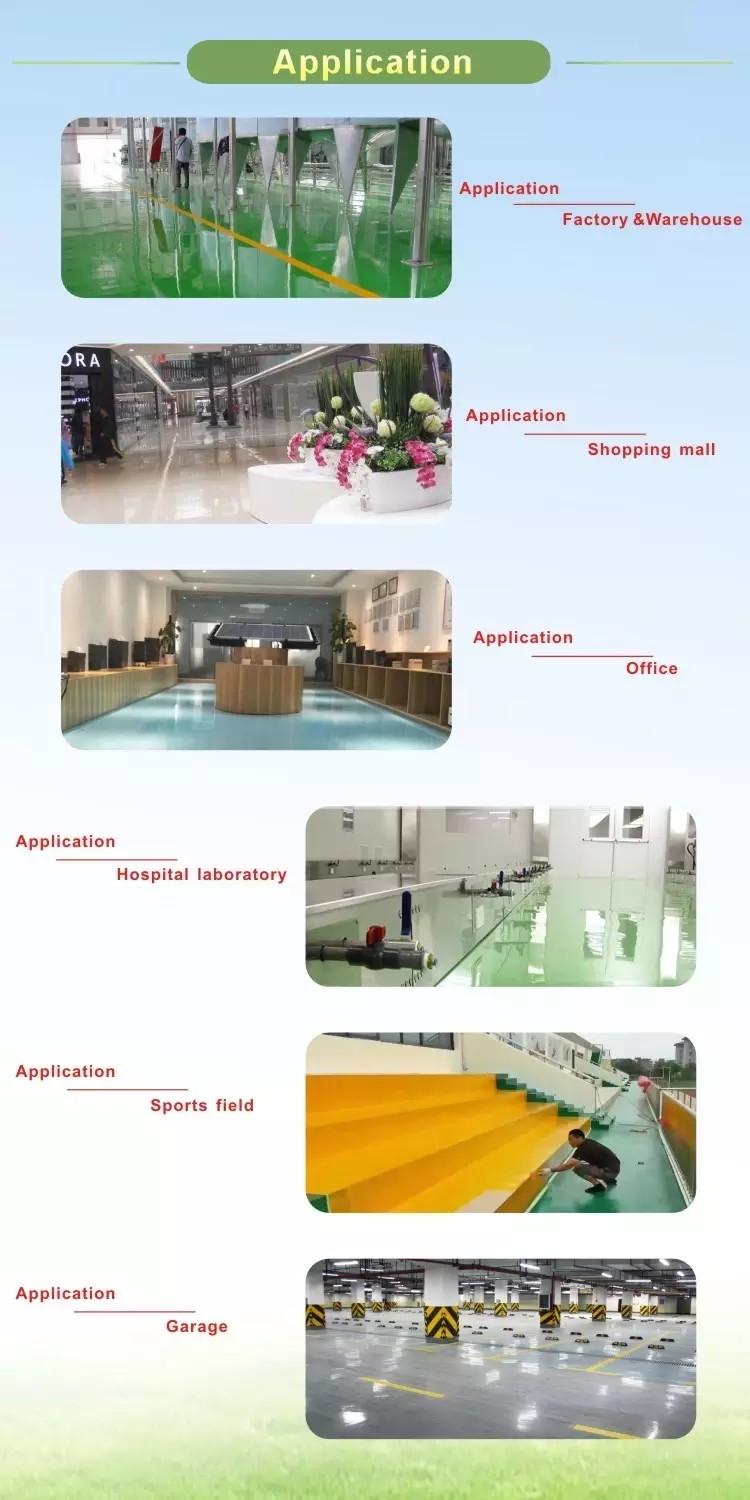 1. The company's payment method supports T/T or Western Union
2. After delivery, our company has professional after-sales customer service personnel to track the in-transit status of products for you, so as to ensure the safety and fast delivery of products to customers.
3. Senior engineers can enjoy a full range of quality one-to-one service for free and give professional advice in the production and operation process. The company's professional engineers can also according to customer requirements, research and development of a variety of different performance of products, curing conditions, temperature grades, color, surface gloss, transparency, hardness and other aspects, to make appropriate deployment, to meet customer's different needs!
4. Our company promises that if there is any quality problem in the normal operation, we will replace the goods unconditionally, and our company will bear the freight incurred on the way.