Epoxy Floor Paint Car Parking Floor Coating
Epoxy Floor Paint Car Parking Floor Coating
HUAREN

China

7 days

20,000MT
That is a two-component solvent-free anti-corrosion epoxy floor paint. Nice appearance, dust &corrosion resistant and easy to clean. The whole coating system can bond well with the solid base and has good abrasion and wearing resistance. Meanwhile, it is resistant to compression and impact and can stand heavy-duty load to a certain extent.
Where to Use:
It is mainly used for the non-dusty and non-bacteria areas like pharmaceutical factory, hospital, precision machinery, electronic factory, etc.
Requirementsof the base:
1. Concrete strength≥C25;
2. Flatness: the maximum fall head between highest and lowest point <3mm (measure with 2M running rule)
3. Press polish of the concrete surface with cement mortar is recommended.
4. Water & damp proof treatment is suggested before application of leveling layer of the concrete.
Technical Data:
Drying time:

Touch dry: 6 hours, Hard dry: 2 days

Compressive strength (Mpa):

≥ 80

Impact resistant strength (Kg•cm):

≥30

Flexural strength (Mpa):

40

Adhesive force grade:

1

Pencil hardness (H):

3

Abrasion resistance(750g/1000r, zero gravity, g)

≤0.026

Service life:

8-10 years

Recommended Consumption:

Primer: 0.15kg/square meter

Putty layer: 0.2kg/square meter

Finish: 0.4kg/square meter

Quartz Powder: 0.4kg/square meter
Application: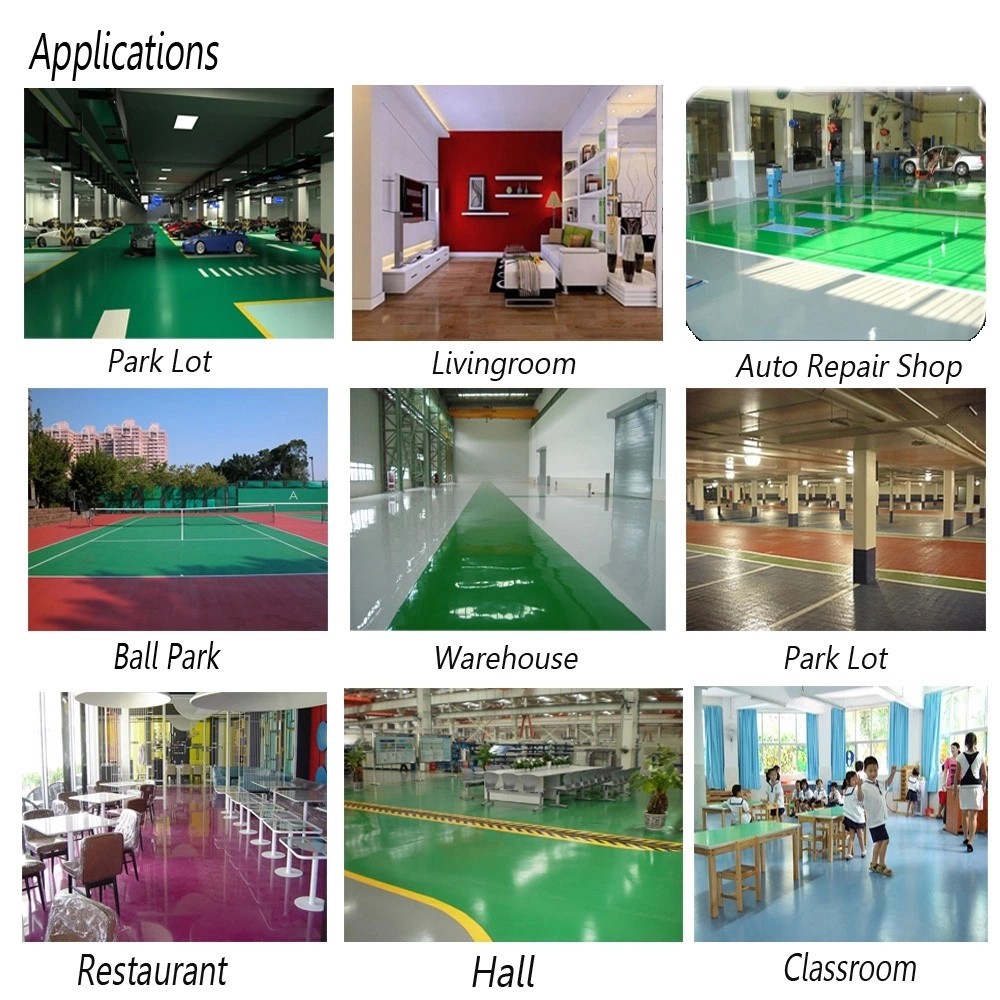 Payment Method And After-Sales Service:
1. The company's payment method supports T/T or Western Union
2. After delivery, our company has professional after-sales customer service personnel to track the in-transit status of products for you, so as to ensure the safety and fast delivery of products to customers.
Why choose us?
1)Technicians can be sent to your site for your coating problems whenever you need.
3)Good quality products at a competitive price.
4)Quick delivery time for new products development.
5)Free samples could be provided.