Floor Epoxy Paint For Concrete Floor Surfaces
Floor Epoxy Paint For Concrete Floor Surfaces
HUAREN

China

7 days

20,000MT
Epoxy Polyester Finish is a two-component solvent polyester finish. It can be applied in the cold and moist environment, especially in the wet and humid areas. The coating is hard and wear-resistant. Large range of colors is available for the customer's reference and it is applicable to the floor in the light industrial workshop, warehouse, etc.
Advantages
1. Seamless, dust-proof and easy to clean
2. Solvent-free and environmental
3. Dense corrosion-resistance surface
4. Bright &smooth surface
Requirementsof the base:
1. Concrete strength≥C25;
2. Flatness: the maximum fall head between highest and lowest point <3mm (measure with 2M running rule)
3. Press polish of the concrete surface with cement mortar is recommended.
4. Water & damp proof treatment is suggested before application of leveling layer of the concrete.
Storage And Shelf Life
1.Store at the temperature of 25°C or cool and dry place. Avoid from sunlight, high temperature or high humidity environment.
2.Use up as soon as possible when opened. It is strictly forbidden to expose to the air for a long time after it is opened to avoid affecting the quality of the products. The shelf life is six months in the room temperature of 25°C degree.
Caution
1.The operating environment should be ventilative and should keep away from fire. Closely sealed after use.
2.Avoid eye contact, in case of contact, wash with plenty of water and get medical attention immediately.
3. If contact skin, wrap with clean cloth or paper, and wash it with water and soap.
4.Keep away from children.
5. Please take a trial before application to avoid usage mistake.
Technical Data:
| | |
| --- | --- |
| Drying time: | Touch dry: 2 hours/ Hard dry: 2 day |
| Compressive strength (Mpa) | ≥85 |
| Impact resistance strength (Kg•cm) | 65 |
| Flexural strength (Mpa) | 40 |
| Adhesive force grade | 1 |
| Pencil hardness (H) | 3 |
| Abrasion resistance(750g/1000r, zero gravity, g) | ≤0.03 |
| Resistance to engine oil, diesel oil for 60 days | no change |
| Resistance to 20% sulfuric acid for 20 days | no change |
| Resistance to 20% Sodium hydroxide for 30 days | no change |
| Resistance to toluene, ethanol for 60 days | no change |
| Service life | 8-10 years |
Application: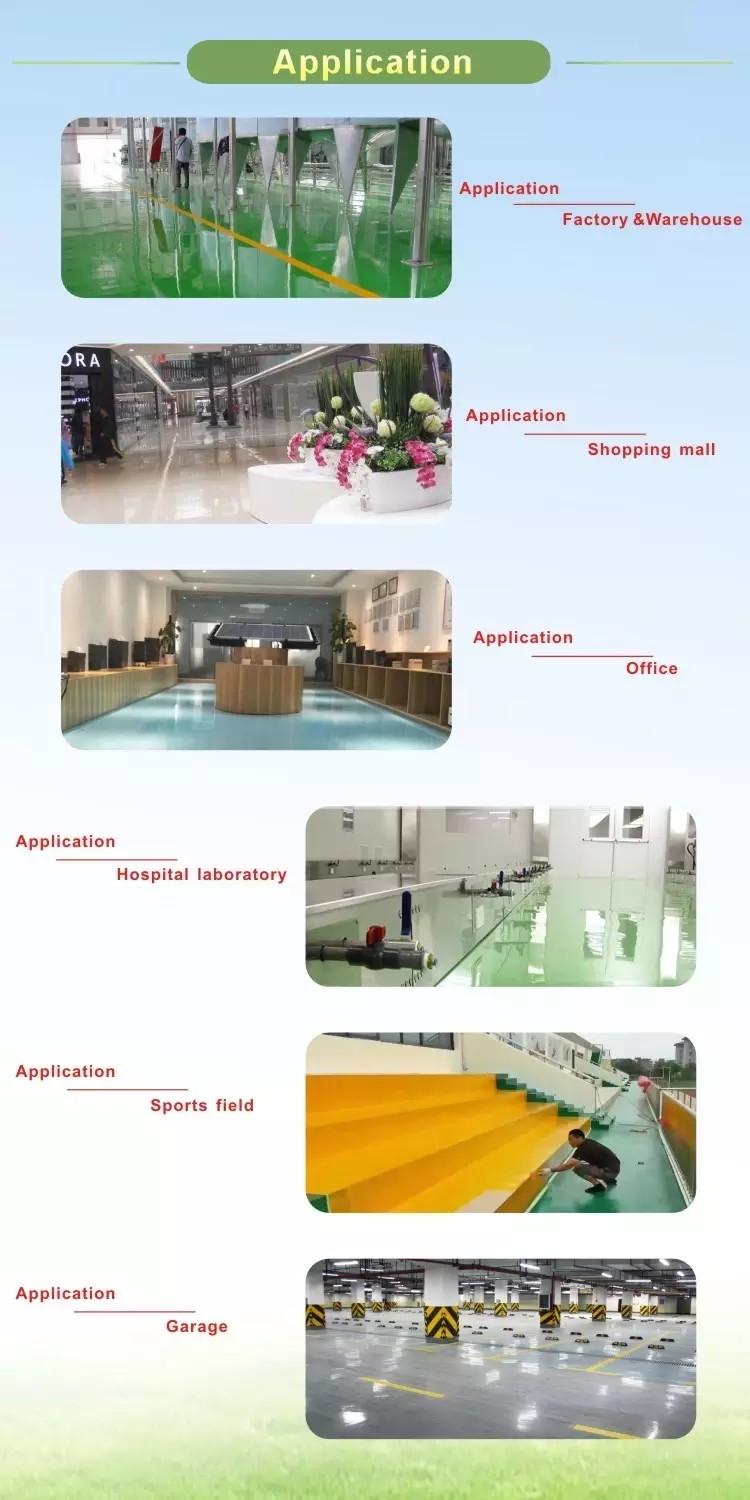 FAQ
1.How can you prove that you are a paint manufacturer rather than a trading company?
We have many years of experience since 1994 in production and export,welcome to visit our factory at any time.
2.How about the price ?
We can offer the best wholesale price which depend on the quantity of the order.
3.I need to make sure the quality and the color .
Our pleasure! We can offer the liquid Free sample for you to test and color chart.
After-Sales Service:
1.Senior engineers can enjoy a full range of quality one-to-one service for free and give professional advice in the production and operation process. The company's professional engineers can also according to customer requirements, research and development of a variety of different performance of products, curing conditions, temperature grades, color, surface gloss, transparency, hardness and other aspects, to make appropriate deployment, to meet customer's different needs!
2. Our company promises that if there is any quality problem in the normal operation, we will replace the goods unconditionally, and our company will bear the freight incurred on the way.