Green And Yellow Epoxy Floor Paint Self Leveling
Green And Yellow Epoxy Floor Paint Self Leveling
HUAREN

China

7 days

20,000MT
Green And Yellow Epoxy Floor Paint Self Leveling advantage:
High-solid Primer is two-component solvent epoxy resin paint/coating. It has good penetration and sealing power on the porous matrix such as concrete and water whetsone, etc. It can reinforce the substrate strength and provide good adhesion.It is an all-purpose primer for epoxy series paints that can be applied on the surface of concrete, water whetsone, etc. Added into arenaceous quartz or amorphous silica, it can be also used as the undercoat.
Advantages:
1. Beautiful, seamless, dustproof and easy to clean
2.Have good bonding with the solid base, small shrinkage with good abrasion resistance and durability
3. Have good corrosion-resistance to the general chemicals.
4. Nice appearance, rapid construction and economy.
5. Applicable to the moderate load
Technical Data:
Drying time:

Touch dry: 6 hours, Hard dry: 2 days

Compressive strength (Mpa):

≥ 80

Impact resistant strength (Kg•cm):

≥30

Flexural strength (Mpa):

40

Adhesive force grade:

1

Pencil hardness (H):

3

Abrasion resistance(750g/1000r, zero gravity, g)

≤0.026

Service life:

8-10 years

Recommended Consumption:

Primer: 0.15kg/square meter

Putty layer: 0.2kg/square meter

Finish: 0.4kg/square meter

Quartz Powder: 0.4kg/square meter
Where to Use:
It is mainly used for concrete surface where has compression & wearing resistance and anti-dust and corrosion requirement, such as Car Parking,ndustry workshop, office, warehouse, foodstuff factory etc.
Application: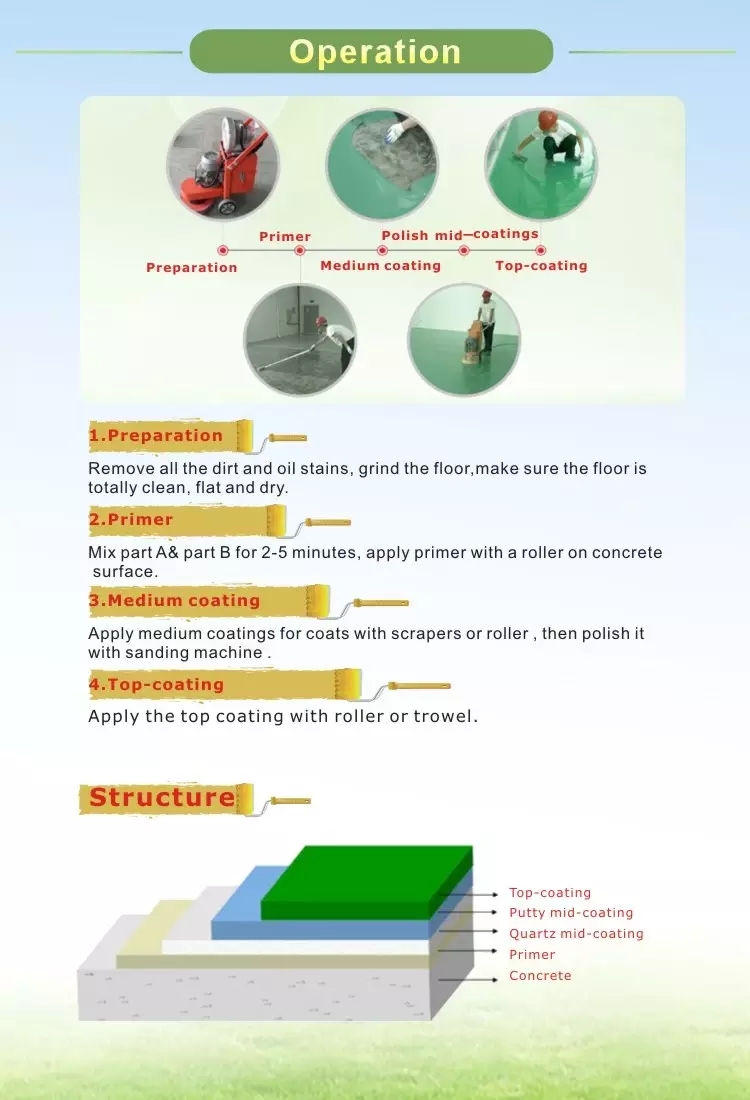 1.Payment Method And After-Sales Service:
1. The company's payment method supports T/T or Western Union
2. After delivery, our company has professional after-sales customer service personnel to track the in-transit status of products for you, so as to ensure the safety and fast delivery of products to customers.
FAQ
Q1: What should I do to the concrete floor before apply epoxy resin floor paint?
A: Before applying epoxy floor paint, be sure to make the concrete floor smooth and flat, the surface must be clean,sound hard and free from loose particles,oil,grease and other contaminants. If it is old floor with cracks,holes,joints, it is required to repair and till dry.
Q2: Is there any special requirement on the substrate concrete condition?
A: Yes, The concrete strenght must be above >C25 ;
Flatness: the maximum altitude difference of 2M running rule must be <3mm
The moisture content of the base must be <4%.
Q3: What is the requirement on the environment during application of epoxy floor paint?
A: 1.The temperature should be no less than 10 C;
2.The moisture of air should be below 85%
3.Make sure the room is well ventilated during application.
Q4: How many layers of epoxy paint is it in your paint system?
A: This is flexible. If your floor is new and smooth in good condition, generally 3 layers of epoxy paint would be enough;While if your floor is old with cracks,joints,holes,etc,it is suggested to apply 4 layers of epoxy paint.
Q5: What is the thickness after application of epoxy floor paint?
A: The general thickness is about 2mm for 4 layers.