Self-leveling Paint Epoxy Flooring Coating
Self-leveling Paint Epoxy Flooring Coating
HUAREN

China

7 days

20,000MT
Self-leveling Paint Epoxy Flooring Coating advantage:
that is a two-component solvent-free epoxy floor paint. Nice appearance, dust &corrosion resistant and easy to clean. The flooring system can bond well with the solid base and has goodabrasion and wearing resistance. Meanwhile, it has certain toughness and can stand a certain weight and it is also resistant to compression and impact.
Advantages of the epoxy resin concrete floor paint/coating:
1. Beautiful, seamless, dustproof and easy to clean
2.Have good bonding with the solid base, small shrinkage with good abrasion resistance and durability
3. Have good corrosion-resistance to the general chemicals.
4. Nice appearance, rapid construction and economy.
5. Applicable to the moderate load
Storage And Shelf Life
1.Store at the temperature of 25°C or cool and dry place. Avoid from sunlight, high temperature or high humidity environment.
2.Use up as soon as possible when opened. It is strictly forbidden to expose to the air for a long time after it is opened to avoid affecting the quality of the products. The shelf life is six months in the room temperature of 25°C degree.
Technical Data:
Drying time:

Touch dry: 6 hours, Hard dry: 2 days

Compressive strength (Mpa):

≥ 80

Impact resistant strength (Kg•cm):

≥30

Flexural strength (Mpa):

40

Adhesive force grade:

1

Pencil hardness (H):

3

Abrasion resistance(750g/1000r, zero gravity, g)

≤0.026

Service life:

8-10 years

Recommended Consumption:

Primer: 0.15kg/square meter

Putty layer: 0.2kg/square meter

Finish: 0.4kg/square meter

Quartz Powder: 0.4kg/square meter
Application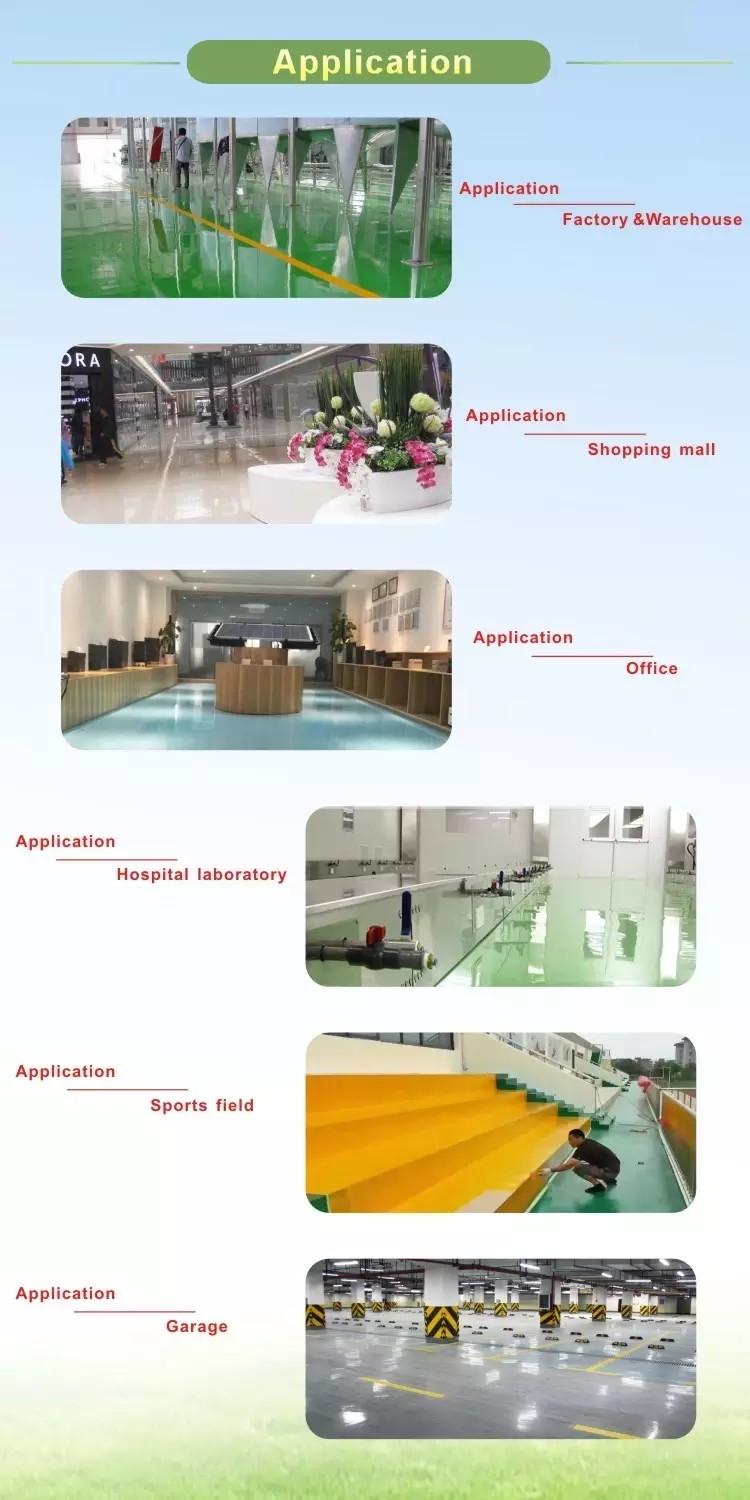 FAQ
1.How can you prove that you are a paint manufacturer rather than a trading company?
We have many years of experience since 1994 in production and export,welcome to visit our factory at any time.
2.How about the price ?
We can offer the best wholesale price which depend on the quantity of the order.
3.I need to make sure the quality and the color .
Our pleasure! We can offer the liquid Free sample for you to test and color chart.
4.If the paint is not ideal, what can I do?
We have perfect after-sales service to help to complete the construction smoothly. Even if there are any unexpected things in your order, we will assist to solve them.
5.What's your MOQ (min order quantity),production period and delivery time?
Our MOQ is 200Kg. We accept mixed order and the production period and delivery time are 7-10 days.
6.I want to put my Logo on the packing .
We can accept the OEM, waiting for your details requirement.