Solvent-free Epoxy Self-leveling Top Coat Paint
Solvent-free Epoxy Self-leveling Top Coat Paint
HUAREN

China

7 days

20,000MT
Solvent-free Epoxy Self-leveling Top Coat Paint advantage:
That is a two-component solvent-free epoxy floor paint. Nice appearance, dust &corrosion resistant and easy to clean. The flooring system can bond well with the solid base and has good abrasion and wearing resistance. Meanwhile, it has certain toughness, brittle-resistance and can stand a certain weight. The compressive strength and impact resistance ability is also excellent.
Advantages
1. Smooth mirror-like surface.
2. Seamless, non-dusty and easy to clean.
3. Solvent-free and environmental.
4. Corrosion-resistance dense surface.
5. A large range of colors for choice.
Where to Use:
It is mainly used for the non-dusty and non-bacteria areas like pharmaceutical factory, hospital, precision machinery, electronic factory, etc.
Operation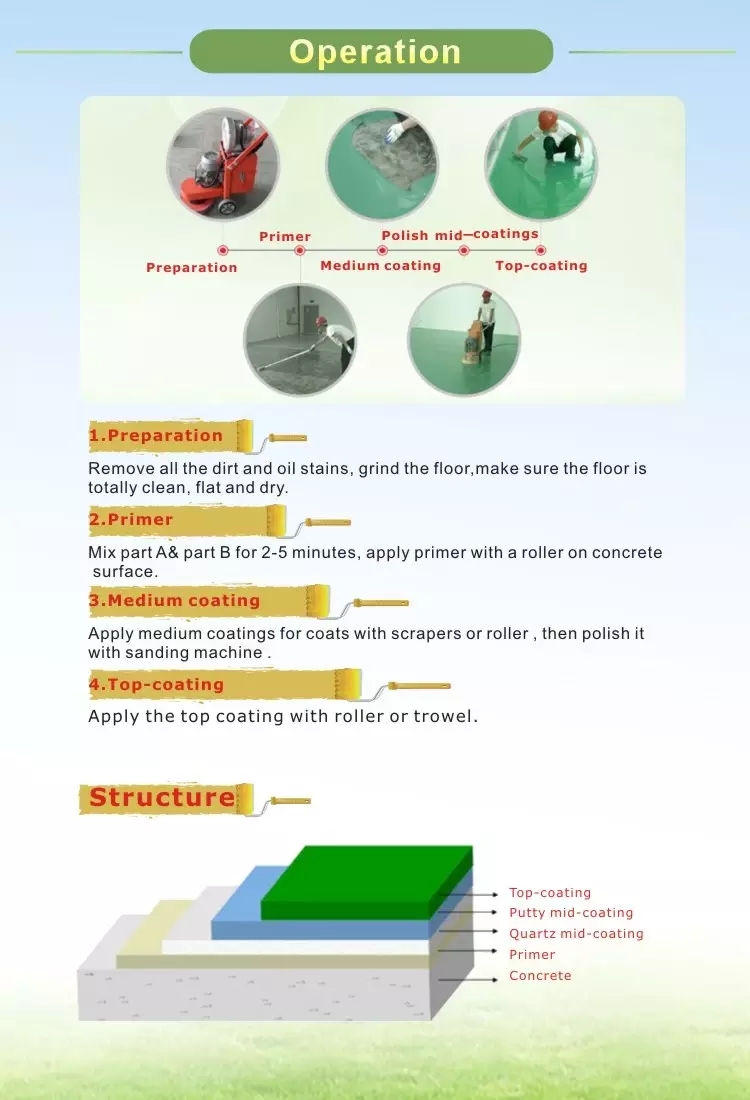 Clean up
Clean tools and equipments first with paper towels, then clean them with solvent before the resin hardens. Health and safety information It contains certain chemicals which can cause skin irritation. Wear gloves, masks while handling the product, washing thoroughly after handling. Should skin contact occur, wash immediately with soap and water. During application and curing in closed rooms, adequate fresh air ventilation must be provided. Keep away from open flames including welding. In case of accidental eye contact, wash with a large quantity of water and immediately seek medical advice. For detailed health, safety, environment recommendations, please consult and follow the instruction on the product material safety data sheet
FAQ
Q1: How many layers of epoxy paint is it in your paint system?
A: This is flexible. If your floor is new and smooth in good condition, generally 3 layers of epoxy paint would be enough;While if your floor is old with cracks,joints,holes,etc,it is suggested to apply 4 layers of epoxy paint.
Q2: What is the thickness after application of epoxy floor paint?
A: The general thickness is about 2mm for 4 layers.
Q3: How many days does it take to finish whole painting project?
A: The re-coat time of each layer is usually 8 hours, namely you can finish one layer today,and tomorrow start another layer.So if you have experienced painters, it will take no more than one week if the floor area is below 5000 sqm.
Q4: When can I use the newly painted floor?
A: After applying epoxy floor paint, you will need maintenance about 7~10 days, no people walk,no maching running.
Q5: Besides the epoxy paint,what else do I need to buy for application?
A: You will need the related tools,such as roller, trowel, grinding machine,grinding disks,electrical mixing machine,etc. We can collect all the necessary accessory tools for you
Q6: How many colors of epoxy paint do you have for choice?
A: We have near hundred different colors for epoxy paint. You can choose from digial color chart and Real color chart.